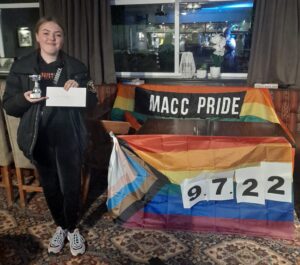 We have our third Grand Finalist for the MaccPride Karaoke Challenge 2022, proudly sponsored by Legacy Funeral Care.
Representing the Mulberry Bush and winner of Heat 3 of MaccPride Karaoke Challenge is Paige….
Thank you, Emma Barton Kenworthy for the DJing plus fab judges, Alison Beevers, Mikki Tiamo, Kay Lomas and Stella Wake-Bennett.
Next up Millstone Fri. 6 May….see you there x
Find out how you can enter the MaccPride Karaoke Competition.