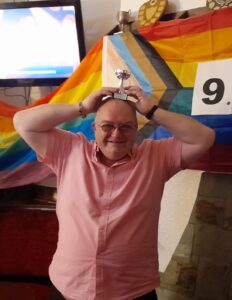 We have our second Grand Finalist for the MaccPride Karaoke Challenge 2022, proudly sponsored by Legacy Funeral Care.
Steve Holland will represent The Flowerpot at MaccPride Karaoke Challenge Finals on Fri 27th May at Pack Horse Bowling Club.
Thank you to all the judges, landlords Ron and Rachel, Paula the Karaoke host and everyone for your support.
Two new members and £110 raised for Macclesfield Pride.
Find out how you can enter the MaccPride Karaoke Competition.