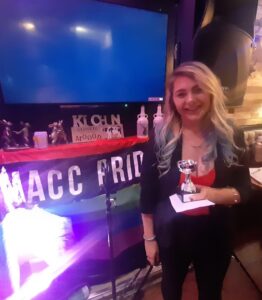 We have our eighth Grand Finalist for the MaccPride Karaoke Challenge 2022, proudly sponsored by Legacy Funeral Care.
Representing the The Plough and winner of Heat 8 of MaccPride Karaoke Challenge is Jenna Naylor….
Thank you, Sue Edwards and the fantastic judges.
The Grand final is Friday 27th May at The Pack Horse Bowling Club. Doors open 7pm. Ticket only. Finalists can buy tickets now. Open to the public Monday 23rd May. Keep an eye on social media.